Welcome to Hazel Class!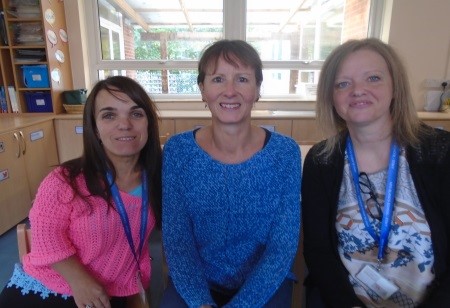 Left to right- Mrs Ball (Teaching Assistant, Wednesday, Thursday and Friday afternoons), Ms Duncan (Class Teacher), Mrs Marshall (Teaching Assistant, full-time Monday to Wednesday, Thursday and Friday mornings)
Our main topics in Year 2 will be:
Autumn Term 1- Towers, Tunnels and Turrets (Castles)
Autumn 2- Dragons; Beat Band Boogie (Music)
Spring 1- Muck, Mess and Mixtures (Art/Science)
Spring 2- The Scented Garden (Plants)
Summer 1- Wriggle and Crawl (Minibeasts)
Summer 2 – The Age Of Discovery (History)
· PE with our sports coach Danny Williams is on Thursday afternoons, and dance or gymnastics is on a Tuesday afternoon. The children's PE kits need to be brought into school on a Monday and left in school for the week.
· Please ensure that your child has the following named items in school: PE kit - navy shorts, yellow PE t-shirt, navy tracksuit top and bottoms (essential for outdoor PE), spare socks, plimsolls or trainers (essential for outdoor PE); book bag; water bottle
· Forest School is on a Friday afternoon (1.00-3.15pm) and led by Gareth Evans
We always welcome and appreciate parental support with both individual reading and Forest School (we rely on at least one parent helper each week or we are unable to go), so please do let us know if you would like to help regularly or even just occasionally. If you have any expertise related to any of our topics this year that you would like to share with the children, we would be delighted to hear from you too!
Many thanks for your continued support.
Hazel Class Team